Shop with the Zombie Rights Campaign
The ZRC store is currently closed to online orders. Thank you for your interest!
Shirts
Zombies Need Love Like Everything Does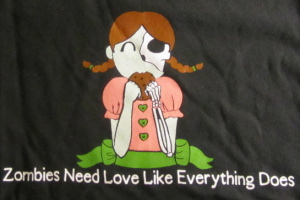 Cookies need love like everything does -- and "everything" includes Zombies. A happy Undead child enjoys a sugary treat on this black American Apparel unisex t-shirt, in sizes extra-small through 3X (sizing chart available on AA's
website
).

Don't Hate The Deadite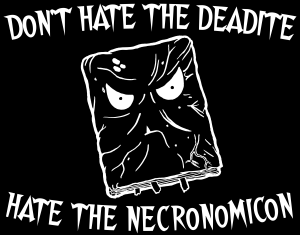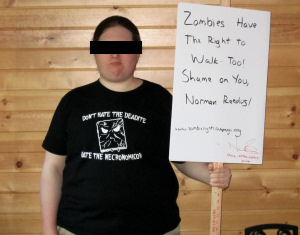 There is
some debate
as to whether Deadites are, in fact, Zombies. However, consider the fact that they are frequently reanimated corpses, or that when even a Living person comes under the sway of the Necronomicon they are profoundly, often irrevocably changed. Perhaps most telling of all, the word "dead" is right in their common appellation.
And, as usual, it's the Undead who take the blame for all of society's ills, and not the evil tome which controls and oppresses them. Plus it bites people! What sort of book bites people?!
So please, join the ZRC in speaking out against Undead slavery and oppression with this stylish white-on-black American Apparel unisex t-shirt. Do it for the Deadites.
Available in sizes extra-small through 3X -- sizing chart available on AA's
website
.

Novelties
Wristbands

100% silicone wristbands, in green with
glow-in-the-dark
lettering: "Zombie Strong" on one side. Large is 8 3/8" around and fits most adults. Medium is 7 3/8" around and fits kids age six and up, teenagers, and smaller adults. Child is 5 7/8" and fits kids up to six.
One dollar per wristband will be donated the Lynn Sage Cancer Research Foundation.
I Heart Zombies Bumper Stickers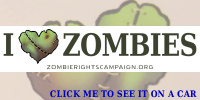 Do you love Zombies? If you love Zombies like the Zombie Rights Campaign does, you'll want to show that to everyone stuck behind you in traffic with the ZRC's lovely new I Heart Zombies bumper sticker. Printed in full color on weather-resistant white vinyl by the inestimable
Sticker Guy
, and adds up to 11 by 2.5 inches of Undead love.
Click here
to view the design by itself.