Here it is, the moment you've all been waiting for, where we announce the Zombie Rights Campaign's 2009 Zombie of the Year. But first, we here at the ZRC would like to say a few words.
Zombies aren't appreciated by our society. It's pointless to pretend otherwise. We live in a world where the often arbitrary distinction between life and death, and especially undeath, is held in far greater importance than a person's character. A world where a helping hand is often rejected, merely because that hand is a pale grey-green, or not currently attached to the rest of the arm by a network of ligaments and tendons. A world where two heads are only better than one if they happen to be attached, via the neck, to a working pulmonary and circulatory system, heated to approximately 98.6 degrees Fahrenheit. A world that doesn't acknowledge its hardworking Zombie heroes.
Until now.
The Zombie Rights Campaign would like to acknowledge all our nominees this year, with the notable exception of Baron Mardi, who knows perfectly well what he did (and feels no shame). All four remaining candidates exemplify what it means to be a positive Zombie role model, to stand out against the ugly stereotype of the mindless revenant, mind set only on devouring the brains of others. We applaud you all, but decisions had to be made.
First, the Runner-Up for Zombie of the Year 2009 is:
Joanna the Zombie Cat!


Joanna is perhaps the least traditional candidate for the award this year. She's not human, which is very rare, and may be the only Zombie Cat working in webcomics today. Unlike the stereotype of the implacable flesh-devouring fiend, Joanna is a meticulous thinker, who spends her days in quiet, Zen-like contemplation of the nothingness behind all things. (Or she's just staring into space. It's a cat thing.)
Her stoic defiance of Undead stereotypes has truly earned Joanna the Runner-Up, or Silver if you like, Award for 2009. Congratulations Joanna (and Jeffrey Rowland, of Overcompensating, Topatoco and many other fine endeavours)
Now for the moment we've all been waiting for. Our Zombie of the Year for 2009 is:

U.N.I.T.Y. of Project Skin Horse!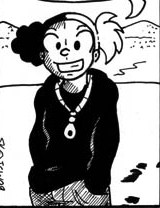 Amongst our distinguished Zombie nominees, Unity has still managed to stand out this year, with heroism and valor in the service of our nation, and of the larger human community. When an unknown threat menaced the frozen North, Unity was sent along with the rest of her mixed-species squad of shadow government operatives into harm's way. When the threat spread like a viral wildfire, it was Unity's Zombie fists that stood between Western Democracy and total oblivion. And finally, perhaps most touchingly, it was Zombie Juices that became a panacea, curing a plague and freeing an entire town from a nightmarish existence.
Just think: this time, it was a Zombie that *saved* the human race from an almost unstoppable pandemic.
Unity could well be the poster-child for Zombie Rights, except that we have that position already contractually filled, and Tim has very good lawyers.
Instead, we are officially naming her the Zombie Rights Campaign Zombie of 2009. Congratulations Unity, Shaenon Garrity and Jeffrey Channing Wells!