Here at the ZRC we're trying to take back the term 'Zombie horde' for Zombies. Zombie collective action is no different from Living collective action, and we've learned just how vital working together is here in Madison over the last several weeks.
At the same time, like the rest of the world, we here at the Zombie Rights Campaign have been shocked and saddened by the devastating tragedy unfolding in Japan in the wake of the Sendai earthquake/tsunami, and we wanted to find a way to help out.
So the ZRC came up with a plan. We will harness the power of a good old fashioned Zombie 'horde' to help in a somewhat non-traditional way: with another ZRC auction for a worthy cause.
Thanks to the magic of Ebay, MissionFish and donations from the ZRC and kind friends of Zombie Rights everywhere, we have set up a internet-based fundraiser, with 100% of the proceeds to benefit the Red Cross. Purchase ZRC shirts, original ZRC prints, wristbands, signed memorabilia, games, books and more, and all proceeds go to the American Red Cross so they can continue their excellent work aiding the survivors of disasters around the world.
Some of the items in our auction include:
–Original ZRC 'Zombies Forever' prints, signed and personalized by the artist for free!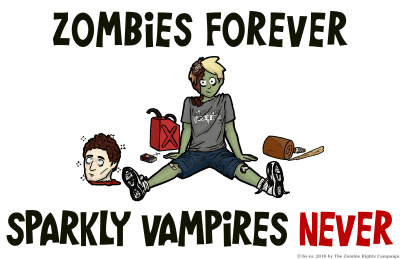 –Original ZRC 'Ban Headshots' shirts, high quality and Zombie Friendly too!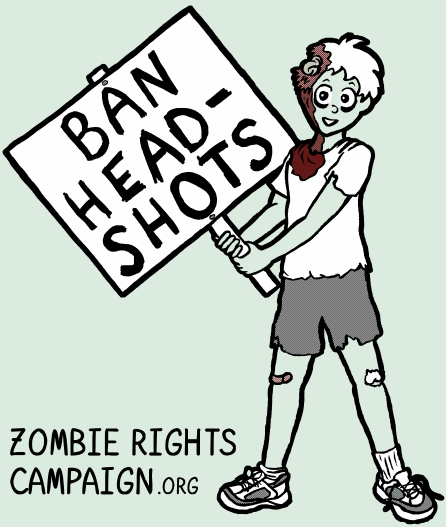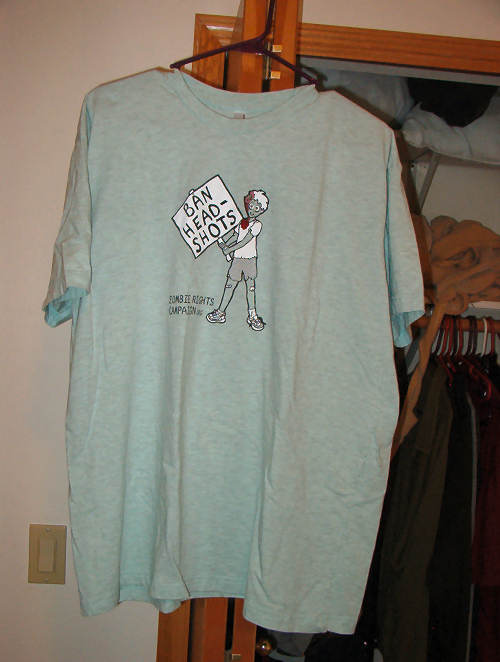 –ZRC 'Zombie Strong' Wristbands, glow in the dark text and a Zombie Friendly message! –A copy of infamous Anti-Zombie film 'Return of the Living Dead', signed by Allan Trautman, aka 'Tarman'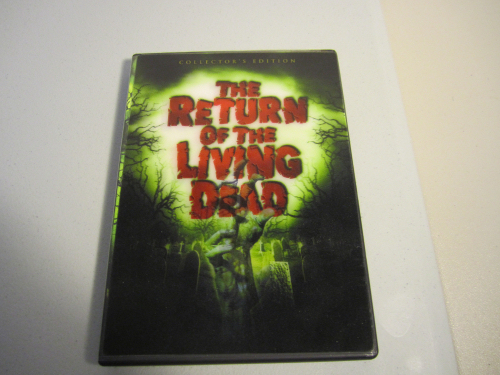 The lenticular cover doesn't photograph all that well, but it is pretty swanky.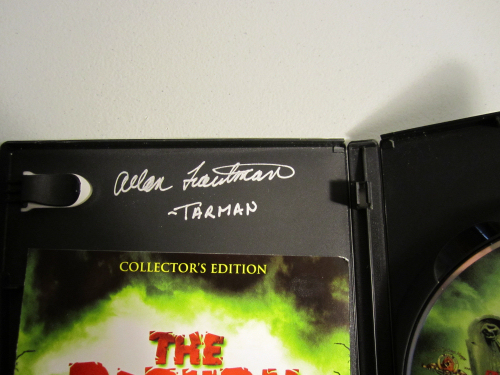 –A signed copy of original Zombie Friendly card game 'Zombie Cafe'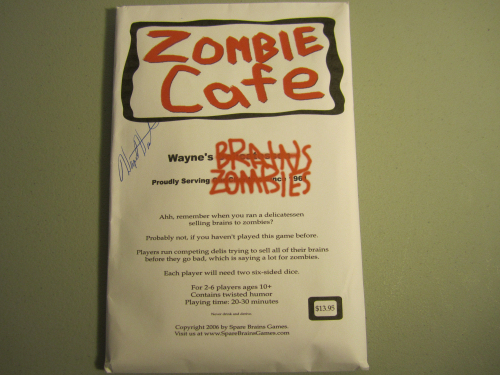 –Signed first edition copies of 'Helpless' by Michelle Hartz!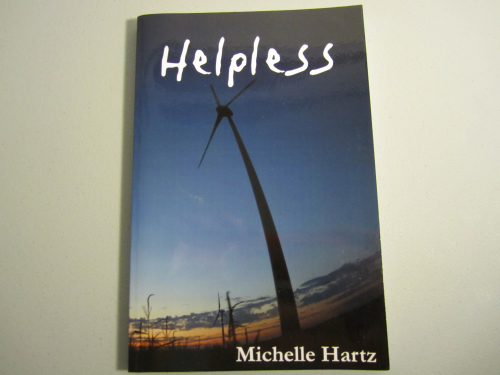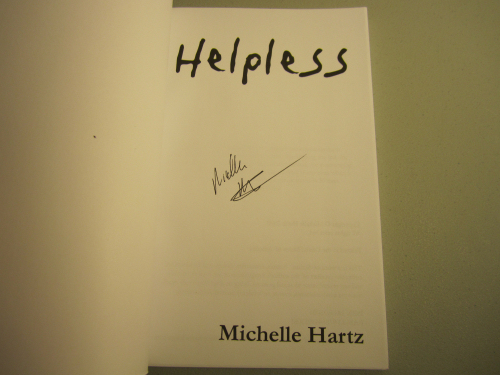 –More items to come!
All proceeds from the auction go straight to the Red Cross, folks. Apparently MissionFish takes a tiny cut, but we absolutely don't. We're also providing free shipping on all your purchases, and finally, as a special, one-time incentive, the Atomic Age Cinema monsters have authorized us to throw in some region-free DVDs of their critically acclaimed satire of the Zombie Apocalypse, 'Atomic Age Cinema TV 2: Atomic Boogaloo'! Spend 15 dollars or more, on any combination of items, and YOU get a complimentary copy of this instant classic film.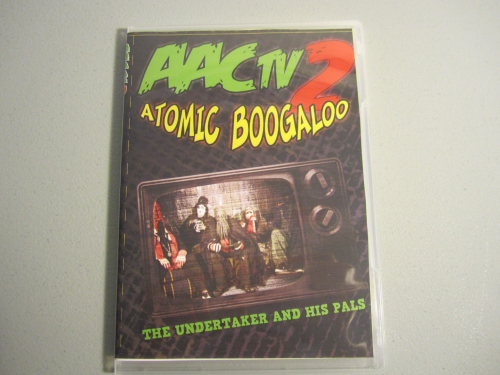 Great stuff, great cause, free shipping AND free movies? What more could you want? Join the 'Horde for Humanitarian Aid' today!
Stay tuned to the ZRC blog for more details, including new items currently en route to the ZRC compound from special ZRC friends in the movie industry. Tantalizing, isn't it?
On a related note, if you are the creator of Zombie-related merchandise or art and want to contribute something to the Auction, drop me a line at zrc@jsears.xidus.net and we will work out the details. We're even declaring a temporary amnesty with Anti-Zombie types, so if George Romero or Tom Savini wanted to contribute, we wouldn't stop them.
The auction goes live early Monday March 21st, just after midnight Pacific Daylight time. This link should show all the items available at that time; I'll check back here to make sure.
Join the horde today! You won't regret it.