At conventions we talk to a lot of Zombie fans, as well as, frankly, fans of Anti-Zombie media (who just need some counseling I think to reform completely) and we always get lots of suggestions.
'Fido' usually comes up. 'Colin' has been mentioned a lot lately too.
For a while there we heard quite a bit about 'Pandorum', and there's a bit of a story here from the ZRC perspective. I *was* planning to see it around opening weekend, way back when, upon hearing rumors it might be Zombie-related.. but it bounced out of theatres so fast that I missed my opportunity.
So when I'd hear it mentioned at cons or film festivals I could not speak as to the movie and its position re: Zombie Rights. Now that I have seen it… I'm not entirely sure why everyone thinks it's about Zombies at all.
'Pandorum' is best described by analogy. If you were to take one part 'Alien', one part 'Red Dwarf', one part 'Sunshine', mix them together with a dollop of the slick and kind of soulless visual style from 'Resident Evil' (ZRC nemesis Paul W.S. Anderson was a producer for this film), voila, you'd have 'Pandorum'.
Notice that none of those movies are actually about Zombies, and really, I'm hard-pressed to say 'Pandorum' is either.
However, like race, Zombiism is a social construct as much as anything, and if so many in the general public believe 'Pandorum' is about Zombies then we need to at least address their concerns.
'Pandorum' opens with a man waking up alone in a futuristic space-ship medical bay in one of those hypersleep chambers (didn't I say it was like 'Alien'?). The process seems extremely unpleasant and being in storage so long apparently has a known side effect of wiping out personal memory, whilst leaving skills and training intact, so the man is quickly able to deduce his name (Bower) and role on board, but nothing else. The ship he is on is in terrible shape and he seems trapped in the room, until another crewman, apparently his superior (Payton), wakes up and begins to take command. Their immediate goal: open a door that will allow them to walk about 10 feet down the hall to the ship's bridge and operate it.
This requires Bower to go through a series of access ducts, since the door is jammed shut without power. Oddly, instead of going a few yards toward the bridge he ends up going a long distance toward the other end of the ship, coming out into a cavernous space where he eventually runs into an agitated crew member from the previous shift.. and then a tribe of 'monsters' who eat him alive.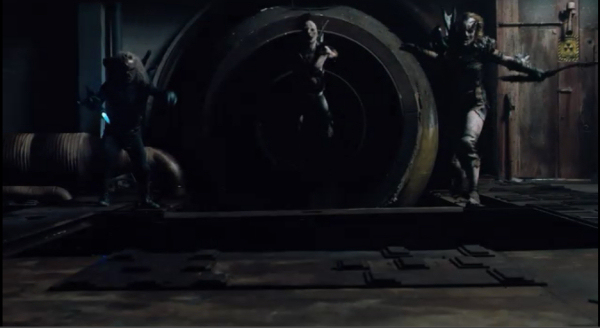 Yes, these are the 'Zombies' in Pandorum: Living, breathing, humanoid cannibals organized into a sort of stereotyped tribal civilization.. with fairly sophisticated metal working; definitely capable of making or working steel. Heck, their fancy stabby toys even have flamethrower type pilot light attachments, and they dress like outcasts from 'Mad Max Beyond Thunderdome'. So we're not just talking about people here, but A People, a civilization, with culture and technology… and, let's be honest, questionable fashion sense.
They really don't seem so bad, which is probably why the movie goes out of its way to let you know they're SUPPOSED to be monstrous by having the camera go lurchy whenever they're around and by cranking the frame rate down dramatically when they move. Which is spooky, I guess, to people who didn't see that trick done in a ton of Japanese horror properties.. years and years ago.
For lack of a better term the ZRC will refer to these people as 'Pandorum-ites' for the rest of this review.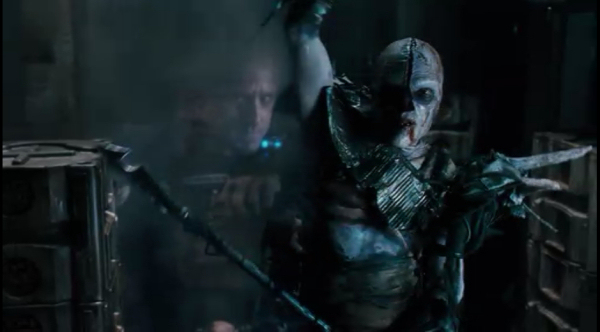 As it is quickly hinted, about sixteen times actually, the ship has been adrift for a really, REALLY long time, and these Pandorum-ites actually evolved from something on board, they're not alien invaders ('Red Dwarf', anyone?). They eat people, yes, but people seem to be the only food on board the ship. It was built to haul 60,000 people in cold storage, with only 3 awake to fly it at a time.
So I'm guessing the Hot Pockets ran out fast.
It emerges in the course of the film that the conventional humans awake on the ship also eat people, so once again we, the audience, are supposed to hold the Different to a double standard. It's ok when someone who looks like you eats someone else in a crisis, but not the 'Zombie'. Apparently.
Well, Bower picks up a couple of companions, the Stolid Ethnic Warrior Guy Who Doesn't Speak English and the Butt Kicking Chick that seems to be a requirement for any movie Paul W.S. Anderson works on. I mean, seriously. Check this out: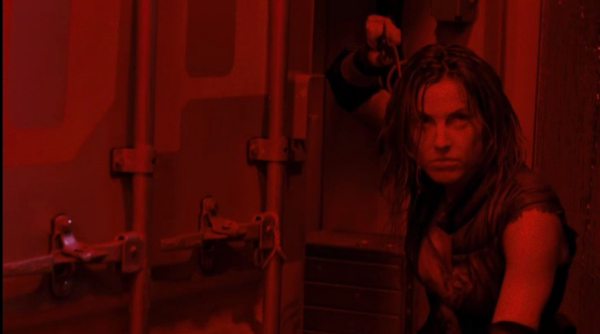 What, Paul, Milla wasn't available for this picture? Good grief man.
So are the Pandorum-ites 'Zombies'? Well, they don't fit into most conventional ideas of what a Zombie would be. They're born that way, to quote the Lady of Gaga, not reanimated or transformed. They aren't Undead, nor are they enchanted with any sort of magic, or are they drugged or hypnotized. For them, this isn't so much Differently Animated as.. animated.
On the other hand, when it turns out the ship has been adrift not nearly long enough for a huge amount of evolution to have taken place, the movie introduces a Techno-MacGuffin, some kind of magic compound that the crew were infected with to help them 'adapt' to any new environment. Given that the entire point of their trip was that the world they were headed to was the one and only Just Like Earth, it seems kind of… extraneous, to say the least.
I guess this comes down to a question of whether other human subspecies are 'Differently Animated', especially if they were artificially created. I suppose the ZRC position will be that we will come to the aid of said subspecies if they face oppression from the Anti-Zombie crowd.
Given that the public labels them as Zombies and the movie demagogues against them I think it's clear that the Pandorum-ites do face such oppression.
To recap: Bower wakes up on a ship that has been in the possession of an alien culture for a very long time. These altered humans, through no fault of their own, had to turn to cannibalism to survive because of a screwup by the original, Conventionally Human crew (no spoilers) that lead to the situation the film presents. This somehow excuses their casual slaughter by the Conventional humans in the pursuit of their own survival?
I don't think so, 'Pandorum'. We're not letting your disgusting rhetoric go by unchallenged.
And speaking of disgusting, the film even goes so far as to fearmonger against adorable Pandorum-ite children like this one: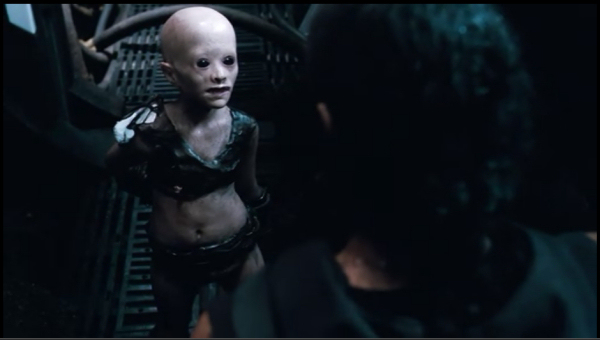 For all of the above reasons, The Zombie Rights Campaign rates 'Pandorum' as Anti-Zombie.