From BuyZombie we learn of yet another Zombie Apocalypse themed clothing product: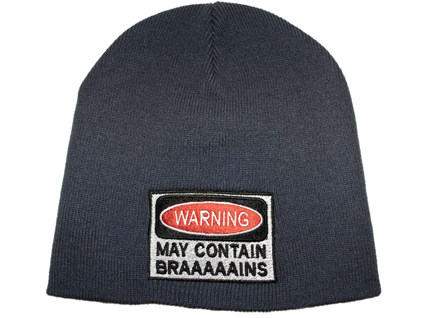 When the zombies strike, an abundance of warning signs can help prevent the spread of infection. Our advice? Wear a reminder. It may seem obvious but humans are easily distracted, especially when they find a stash of canned foods with valid expiration dates.
I'm not sure what this hat is supposed to do, exactly; remind the wearer that they have a brain? Remind others that they have a brain?
Look, if you feel the need to regularly demonstrate that you have a brain, you… are precisely the sort of person who'd buy a hat to do it.
Nevermind; I retract my objections! Marketing genius, but still not Zombie Friendly.
You can get this hat at SplitReason.