After a much longer delay than we wanted (sorry about that) all items are now back in stock at the ZRC Store! The sale of many of them benefits not just Zombie Rights, but also the Lynn Sage Cancer Research Foundation, so keep that in mind when considering what to do with your hard-earned lucre.
First, one of those products with, in this case, all proceeds going to charity, the Lurch for the Cure t-shirt, back after selling out in many sizes at Discworld Con!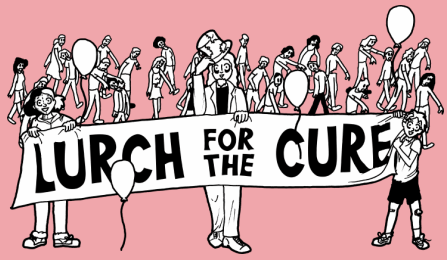 While reordering we also added new sizes, so feel free to pick up Smalls or even Extra Smalls along with the usual Medium through XXL, in either gray or pink. As always our shirts are printed by Brunetto on American Apparel material and are a durable and comfortable Zombie Friendly fashion statement.
Next a product that we actually keep the profits on, the new 'I (Heart) Zombies' Bumper Sticker!

We heartily suggest putting one on your car so that completely random strangers know that you support the Differently Animated.
One is on our car, as a matter of fact: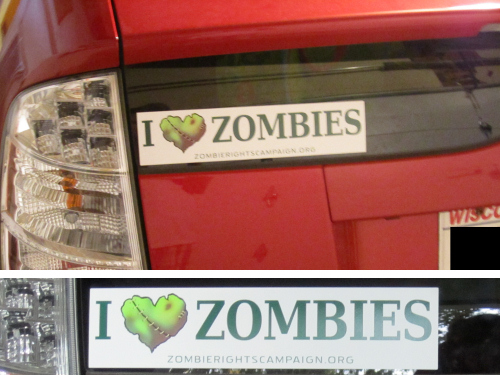 We have bulk ordering specials on the bumper stickers as well, in the event you have a great number of cars to proclaim your love of Zombies from. Maybe you own a Used Car lot, who can say? We don't judge, in fact, we encourage you to slap them on all sorts of vehicles.
That's about enough mercenary behavior from the ZRC for one day; we now return you to your regularly scheduled Zombie Rights agitation already in progress.