It's well-known that we don't get along with the 'Zombie Research Society' here at The Zombie Rights Campaign; their 'research' is geared toward hurting the Undead, and they certainly don't want Zombies to have rights.
Which, to be clear, is a bigoted and offensive position to take.
Meanies.
This poster they've commissioned for their Undead-bashing 'Zombie Awareness Month' is, we have to admit, kind of cool though: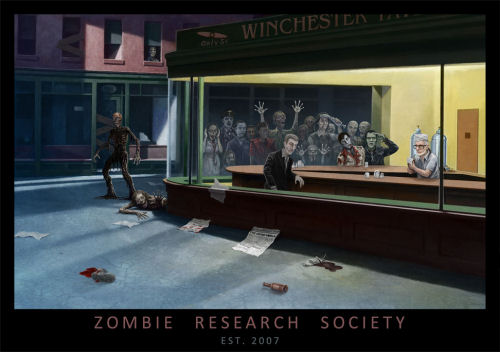 Cool, but troublesome. I mean, why are all the Zombies sitting separately from the Living people? Is this another example of Zompartheid (or Zom Crow laws, if you prefer)? Are Zombies not allowed in this Tavern?
And look at this: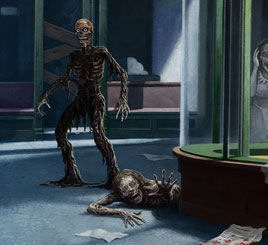 See, Tarman's even off to the side trying to help out that nice lady from 'The Walking Dead', but do the people in the Winchester care? Are they calling an ambulance? No. Of course not.
I find that offensive. And that presents the basic quandry: is this poster, full of cool art of cool, iconic Zombies, about the Undead themselves, as we would hope, or about fearing and hating them, as is, sadly, the usual from the Zombie Research Society? Is the ZRS poster in fact a celebration of Zombies, or a celebration of their continued oppression?
Why can't the Zombies come into the diner? Why can't you give them a helping hand, ZRS? Is that so much to ask?
Inquiring minds want to know, ZRS. Inquiring minds want to know.