Seriously, this is as much Odd as it is Anti-Zombie:
Night of the Living Doughnuts!

Mr. Jimmies was a mild mannered doughnut, just doing his regular shift at the greasy spoon diner. One fateful night a police officer staggers in… green, incoherent, mumbling. Before Jimmies could get out a concerned "May I help you Sir!?" … the officer chomped!

Reeling back, bloodied and in shock, Jimmies realized his fate was sealed. The officer was one of the newly turned "undead"….
Jimmies the Zombie Doughnut.
No, really: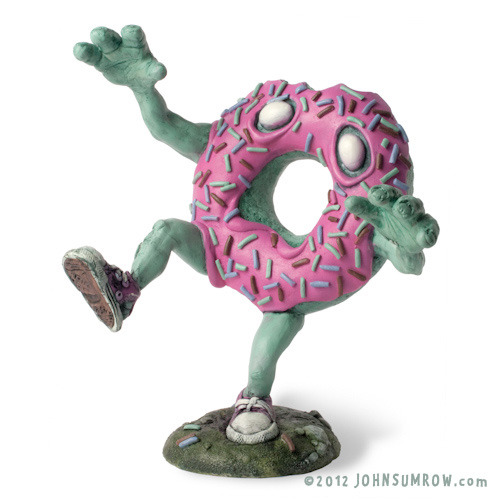 Honestly, I have to admire the dedication to the concept here. To sit down and hand paint all the tiny sprinkles on a Zombie Doughnut, yeah. At some point you have to wonder if the artist, a Mr. John Sumrow, had his doubts, wondered to himself, 'How can pastry be alive? How can it die? Undie? Why was a doughnut working in a diner anyway? Wouldn't the doughnut have served other pastries? Seemingly (since his customers were also doughnuts) To other pastries? Is that cannibalism? What sort of horrible dystopia full of cannibal doughnuts have I created?'
Maybe that's just me. *shrug*
Thanks to BuyZombie for this one.