Last year The Zombie Rights Campaign was privileged to bring a Zombie Friendly perspective to the intimidatingly-awesome (yet Living Supremacist) event 'Nightmare on Chicago Street' in Elgin, IL. We wrote about that experience here, here, and here.
'Nightmare on Chicago Street', to refresh memories, is no ordinary Halloween party. No sir. It's more like an in-depth 'Zombie Apocalypse' (we prefer the term Global Reanimation Block Party) simulator. Last year saw overturned cars, flat-bed trucks full of bodybags and a militant, Anti-Zombie response team in place to exclude the Undead from a 'safe zone', which is naturally where all the cool party stuff was going on.
(Zombie Apocalypse, or typical Chicago-area traffic? We report, you decide.)

(an Anti-Zombie barricade)
As if Zombies don't like a cool party!
Well, we couldn't let that go unchallenged, so the ZRC went to Chicago Street to educate and inform, and get a few pickets going, and we had a great time informing the public about the rights of Zombies.
This year, 'Nightmare on Chicago Street' is going to be even bigger, and even more shamelessly Anti-Zombie!
The Apocalypse is upon us…. Nightmare on Chicago Street will be your only hope to survive the UnDead again this year.

We survived last year, but somehow, someway a few of the undead have been seen once again. Our top researchers and scientists have been working hard to keep us up to date about the coming annihilation which they believe will happen October 27th, 2012.
Scientists? I'd like to see some credentials on these prophets of doom!
At any rate, Nightmare on Chicago Street this year will have lots of live entertainment, music, events, and we needed to step up our protesting game to compete for the coveted hearts and minds.
So tomorrow The Zombie Rights Campaign will Zom-cupy Chicago Street!
It's like Occupying, but with, you know, Zombies. (Work with us here.)
We will be, in a completely non-violent, friendly, civic-minded fashion helping to retake this 'Safe Zone', formerly a public space in Elgin, for all citizens, Differently Animated and Living alike!
First, let me offer you some educational literature on ZOMCupy.
Then how about you join us for some Zombie Friendly picketing? We'll provide the signs as well as materials to make your own, so be creative!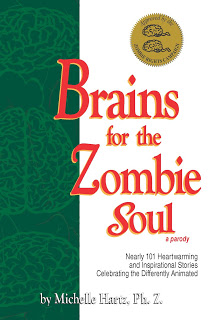 Finally, we have recruited Noted Zombie Friendly Author Michelle Hartz to do book signings and, dare we hope, live readings from her latest work, 'Brains for the Zombie Soul', a ZRC approved tome of uplifting and Zombie Positive stories and anecdotes. If you'd like to read ahead, it's available on Kindle! If you want a hardcopy to cherish, come by our booth tomorrow!
Ms. Hartz will be signing at 6:00, 8:00 and 9:30 pm, although if you were to come up at another time desperate for enlightenment I doubt she'd say no.
To cap off the evening we're hoping for a full Zombie Rights March as a show of Living-Undead solidarity. All are welcome.
So please, Zombies, Zombie Allies, interested gawkers, come to Elgin tomorrow at 6pm for Nightmare on Chicago Street and help the ZRC strike a blow for Zombie Rights and Zombie-inclusive public spaces everywhere!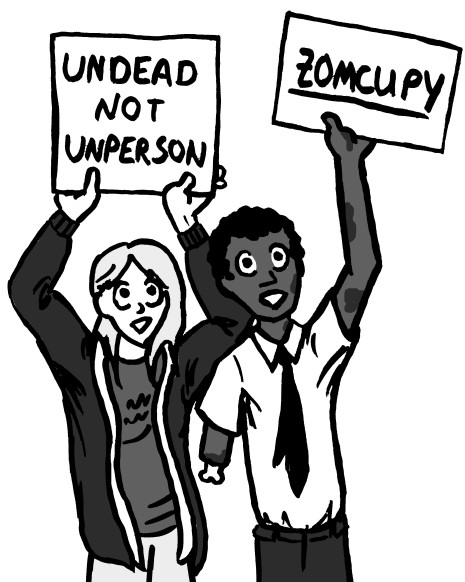 For the full set of ZRC pictures from last year, go here.