As you have probably heard by now, Zombie Rights allies, noteworthy Zombie film actor and cinematographer Bill Hinzman passed away Sunday evening:
LOS ANGELES (Reuters) – Bill Hinzman, who was cast on-the-spot as a zombie in 1968 cult film "Night of the Living Dead" in a role that earned him the longlasting admiration of horror fans, has died at age 75, his daughter said.

Hinzman died of cancer on Sunday evening at his home in Darlington, Pennsylvania, his daughter Heidi Hinzman told Reuters.

…

He will be cremated, as he had asked, said Heidi Hinzman.

"He always joked with me that if he got buried he would come back," she said.
Mr. Hinzman played one of the first truly iconic modern film Zombies almost by happenstance. Hinzman wasn't supposed to act in 'Night of the Living Dead'; he was in fact the Assistant Cameraman. But as the story goes, he was available, the right age and had an old suit, so Romero cast him at the last minute to be the first Zombie to appear on screen in any of his films.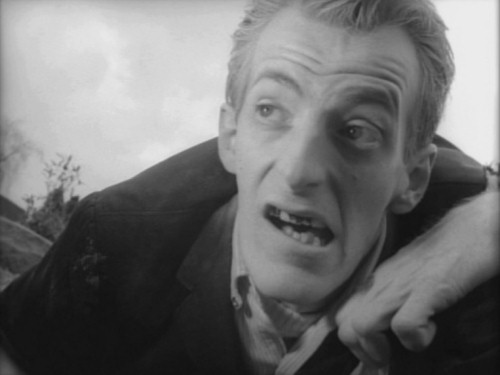 (Original screencapture credit to Wikipedia)
The Zombie Rights Campaign of course cannot approve of Mr. Hinzman's work, either behind or in front of the camera, on 'Night of the Living Dead', the single most influential Anti-Zombie film of all time. As an individual, however, Mr. Hinzman was widely-loved in the horror community and returned that affection graciously.
The ZRC got to meet Bill Hinzman in 2010 at the Famous Monsters of Filmland Convention, and he was even kind enough to autograph our 'Zombies Forever' charity auction poster. Thus, in a small but we feel very significant way, Mr. Hinzman helped bridge the gap between the Living and the Differently Animated Communities through shared work fundraising for cancer research.

(Signature of Mr. Hinzman, 'Zombie #1′, Upper Left)
Sadly it was that same awful disease that took Mr. Hinzman's life. Although we may have been at cross-purposes on the Zombie Rights issue, and as stated above Mr. Hinzman did not want to come back as a Zombie, it would have made the Zombie Rights Campaign very proud to fight for his rights if he had changed his mind.
The ZRC wishes to extend our heartfelt sympathies and condolences to Mr. Hinzman's family. He will be missed.